Linking up with
Christina
,
Amanda
, and
Karli
! I can't believe that it is Friday already. This week flew by for me and I am so busy today and tomorrow and I just want to take a breathe before school starts.
Don't take the above sentence wrong, I am super happy it's Friday because I have lots to look forward to today and tomorrow!!
1/ Favorite Song
Vacation - Thomas Rhett
So catchy and it makes me want to go somewhere!
2/ Favorite Workout
Want to get your sweat on?? Try this workout on for size!
3/(Not So) Greatest Moment Of The Week
When I say greatest, I mean the most epically embarrassing moment of the week. Lets go back a few days to my first day of nursing school orientation...I kept waiting for a e-mail with more information about what to expect/wear. When this e-mail didn't come, I e-mailed my advisor (by lunchtime the day before because I am a worry wart) and asked two questions - 1 question about a module and the 2nd question about what to bring/wear to orientation. Well she doesn't acknowledge question two so I assume that we just wear something more casual to orientation. I roll up in the parking lot around 7:30 that morning in a cute tshirt and workout pants. Now, I didn't look like a slob! I was comfy but had my hair and makeup done and looked put together but comfortable. Well...everyone, I repeat, EVERYONE getting out of their car was dressed up. In a panic I get out of my car, ask a girl if she's going to nursing orientation (she confirms this) and then ask her if we were required to dress up (also confirmed). A whole bunch of choice words ran through my head as I ran inside to talk to someone in charge. Well, lo and behold I was the only one out of about 130 students who did not receive the e-mail. Yep, mine went to the wrong e-mail address so I had no idea! It was horrifying, people stared, and I'm sure thought I was not so bright. I am off to a good start with nursing school!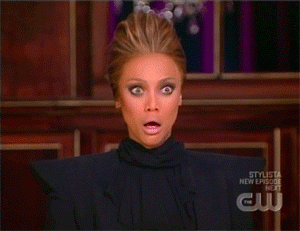 My face when I pulled into the parking lot.
4/Crushing On...
I want one so bad...
Does anyone have a powder coated Yeti, RTIC, Ozark Trail, etc? Do you love it? Is it worth the price? I really want to order one so please tell me your experience with the powder coating if you have one!
5/Funnies
Information overload during orientation
Sitting in all the traffic because the kids are moving in for college...
My inner voice speaking to me when I break out the Ben and Jerry's pint